Why replace a harmonica comb?
Submitted by
Andrew
on Tue, 09/03/2013 - 20:41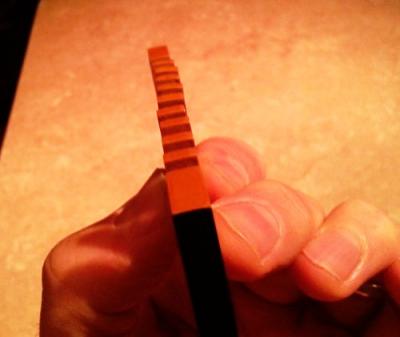 I am the first to admit that you usually don't need to replace the comb in your harmonica to make it play well.
I have been working on stock combs (the combs that come with the harmonica from the factory) for years. They need to be made more airtight to make the harmonica play as well as it should. It's possible to flatten these combs and make them waterproof to perform at a very high level.
The problem with restoring used wooden combs is that they can be very unpredictable. The comb shown in the photo on the right is a stock Hohner Marine Band comb that had been restored. It was perfectly flat all throughout the restoration process until the very last step - final cleaning. Despite having been sealed with three coats of varnish, it warped horribly after being exposed to water. This is completely unacceptable.
I've found that about one in fifty such combs will do this. It's possible to avoid the use of replacement combs and only work on stock combs, but it's too time-consuming to be cost-effective. And it offers no benefit. The factory wooden comb doesn't offer any better tone or response than another type of material. In fact, unless its comb is perfectly flat, it will worsen how the instrument sounds and responds.
I finally decided that the most effective solution would be for me to make my own water-resistant combs. I wanted to make combs that are very airtight, beautiful and made from sustainable, environmentally-friendly materials. This method is better, faster and cheaper than restoring the stock combs. I am extremely pleased with the result.
I am proud to use these combs in my custom harmonicas as well as part of harmonica service. I am also offering them to you for your own use.