Hohner Affiliated Customizer Program
Submitted by
Andrew
on Thu, 03/10/2016 - 14:14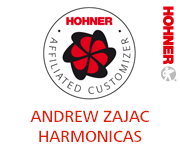 After years of hard work, I am humbled to have gotten the news from Joe Filisko this morning:
"I'm happy to say that Andrew Zajac has PASSED the rigorous tests and is now officially part of the Hohner Affiliated Customizer Program."
Thank you so much, Joe!
This is only the beginning - I intend to work just as hard and continuously strive to produce a better harp.